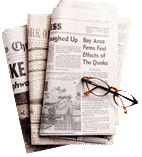 Today I received my diploma from Lee College. I realized at the end of last semester that I had completed my Associate of Computer Science degree by completing the one class that I don't think they've ever offered at Lee: Data Structures. If they did, it was never as hard as it was here at LeTourneau. I'm tempted to go on a rant here about sub-par "higher education", but I'll hold that for another time.

It was kinda funny in completing it. It was almost by accident that I remembered this class would finish it. You see, when I was just about done at Lee, they told me that class wasn't being offered that year - not semester, year. They said if I took some other classes that it might be offered the following year, if there was enough interest. What? Wait a year, and then there might be a class?! (remember this was pretty much the only class I needed to finish...)

I quickly packed my bags and headed to SFA to go ahead and "get on with life". I figured if I could take the class at SFA, I would, and continue working towards my Bachelor's in the meantime.
Things didn't quite work out that easily and I lost some ground in transferring, so I was back to square one when I got to SFA. About the time I was to do Data Structures, I was offered a position at AMD. The next time I had a chance, was the summer of the wedding. No problem, I'll take the class at LeTourneau.
Again, I was set back by the differences in curriculum, so it wasn't until just last year that I could take Data Structures. (Maybe if I was still at Lee, I'd still be waiting?)

At any rate, no matter what happens, I can always fall back on this to seperate me from being a total failure. Not that an Associate's is such an accomplishment, but it's more than some.