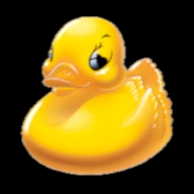 Amazing.
As I outlined in this post on the forums, Jennifer got a bunch of balloons for her birthday from her mom. We kept them in the living room for a few days, just enjoying their atmospheric buoyancy. Tuesday came around and we noticed that a couple of the balloons were starting to sag a bit, so we decided to either let them wither away or do something fun. We decided to tie a note to the entire cluster and let them go. Kinda the whole message in a bottle thing. Just to see where it goes. We released them on Tuesday, October 11. This morning, I got an email from a lady in Illinois that said her husband found the balloons on Thursday, October 13.

I'm amazed. Not only that someone actually replied, but that our little balloon cluster made it that far! According to Mapquest, from Longview, Texas, to Bartelso, Illinois, the estimated distance is roughly 657.55 miles!

The email is posted in the forums.