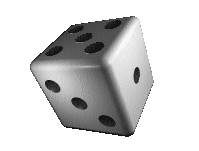 I got Call of Duty for Christmas this year from my dad. It's a very fun game. It has more of a realism feel than arcade, but it's still very fun to play. It's not like Rainbow Six or any realism sim.

It covers various campaigns from World War II. You play as the Allied Forces: United States, Britain, and Russia. With each mission being a little different from the one before. I beat the game in a matter of days, but that was playing the game for hours on end.

The single-player gameplay is excellent. (i haven't played straight through a single-player storyline since Half-Life!) It has some very tough parts, certain points in the game you think it's impossible to beat. It's quite addicting in the middle of the game, and at the end it's a feverish pitch to keep pushing forward.
The multiplayer online play is just as feverish. The gameplay is constant, and if you're looking for more man-to-man gun battles than Battlefield 1942, Call of Duty might be your game. I was very impressed with the graphics, and the way I got so caught up in it. Definately worth a look.

Download the demo from the official Call of Duty website or any file-hosting site.