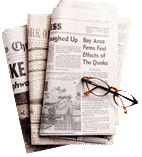 Well, it's official (in my eyes at least) Comcast sucks. Time Warner Houston recently sold their internet operations (aka RoadRunner) to Comcast. In doing so they migrated user email accounts to a @comcast.net address, rather than the long @houston.rr.com. Cool, it's shorter, easier for newbs to remember, etc.

I migrated my family (me, jenn, parents) over to Comcast a few weeks ago, problem is, there's no easy web interface to manager user accounts. There very well could be some awesome, ground breaking webapp to do just this, but Comcast doesn't make it easy to find - not like RoadRunner used to. So now, everyone's converted over, but I can't set/change my parents' email passwd so they're more or less locked out of their email until they (or I) call Comcast. Ok, fine. I can call sometime, no problem. For me it's no problem migrating over. I just changed the MX redirect on my neodux.com email address and the mail is routed appropriately - for a while. You see, Comcast has this thing called a blacklist. Lots of people are unhappy with Comcast's blacklist. If your mail server isn't AOL, MSN or some other commercial service, chances are you'll get blacklisted. Guess what happened to mail from neodux.com?

I called Comcast and was on the phone with 2 different technicians for about 45 minutes (not including hold time) trying to A) convey to them the problem and B) how it's their problem and not my "internet security settings". I even had one technician tell me repeatedly and in a condescending tone that there is absolutely no blacklist and that my emails are bouncing due to my mail server. (No way buddy, not when the header tells me your mail server is rejecting it!)

Long story short: Neodux email is now hosted on Dreamhost who, despite my problems with them in the past, is 110,000% better at not screwing up stuff for no reason. Thanks Dreamhost!