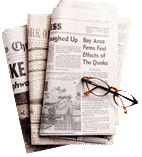 That's it. I've had all I can stand. Gillette Mach3 blades are to the point where they're losing me as a customer. The package at the store tonight said "Now in 5 pack!". Why are they giving me a 5th blade? Because they've raised the price to $11.25. (That over $2 per blade!)

Granted, I was totally out of blades at the moment so I bought them. I'm hoping they'll be my last for a long time because tonight I bit the bullet and shelled out $50 for a new "old-fashioned" safety razor (blades for this one are around $0.15 per blade).

Years ago Araolath told me he was wanting an old-fashioned razor and that I should check them out. So I've been partly interested in them off and on for quite a while now. I've just never had much reason to switch. Now I do.

They say it takes a while to get used to the new way of shaving and to just take it slow at first. Well, with summer upon us, I will have time to hide my soon-to-be-butchered face while I relearn shaving. My uneven "missed a spot" shaving pattern will also be worthy of staying home for. So what better time to start than summer?

I've been watching videos by this guy on YouTube, mantic, that has a good collection of shaving videos. He recommended a few different models of razors, various blades and techniques that are echoed on other howto sites. So if you're interested, yourself, check out some of his stuff for a good starting point.

Continued at "Double Edge Safety Razor" part 2 & part 3.