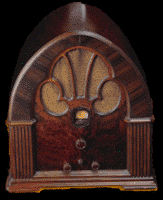 About two weeks ago I completed construction of my Elecraft KX1 ham radio kit (serial #2182). It wasn't the easiest build I've done, but definitely the most fun. The purchase was funded almost totally by referral bonuses from Dreamhost. When anyone signs up for an account with my referral link I get a kick-back. I had let the bonuses build up over time and eventually had enough to cover the radio, but I digress.

The KX1 is a "trail-friendly", portable CW ham transceiver. There's plenty of other sites that will give you more detailed information about this gem of a radio. I finally got to use mine yesterday for more than a couple of minutes and I must say I totally love it. The receiver is great, the noise floor is low, the filters are tight, and the features are really packed into this tiny radio.

My antenna was a random wire made from speaker wire with one end elevated to 20' using a BnM Black Widow 20' Crappie Pole purchased at Bass Pro Shop in Shreveport, LA. The antenna sloped down to my BLTPlus antenna tuner which tuned the random wire without any problem. I had the tuner hooked into the KX1 with a short piece of BNC cable.

In short order I was copying stations on 7.030Mhz (40m QRP) and trying to copy the faster stations lower down on the band. I had to tighten up the filters because of the sheer number of signals I was able to pull in. I wasn't able to raise any station due to my diminished transmit power. (I was running off of internal AA batteries because my gel cell hadn't been charged in quite some time.) I was also impatient due to the strong wind, fading daylight and biting insects. I'm going to try again later this week and see if I can't finally capture that elusive QRP contact with this fun little radio.

update: I now have the KXAT1 auto tuner installed.