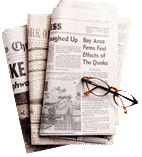 So I was talking to Kim the other day and she mentions that what would be really nice is a non biased listing of all major religions and what they stand for and believe.

Most people affiliate with a particular church because it's how they grew up, i.e. that's where mom and dad choose to take you. But a much better way to choose would be to see the different denominations and choose one that most closely fits your personal faith.

At this point I mentioned that there's probably a website out there to facilitate that, but I haven't a clue what it is.

This also brought up the issue of having a stances guide for presidential candidates. There's Vote Smart and some other sites to give out bio stats but nobody lays out a unbiased look at each candidates stance on major issues, or what each candidate considers major issues. A lot of that has to do with candidates not wanting to be painted into a corner or having their stances be oversimplified, but thats not impossible to work around.

It seems like we have hundreds or thousands of data tools to use online if it's in the interest of helping us consume, but finding really useful information in a helpful format on things like religion or politics is a huge pain in the butt. Why can't getting information about denomination choices or presidential choices be as easy as getting facts about video card choices?

If you need me I'll be out defending our system of consumerism, hoo-ah!