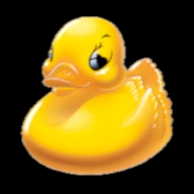 Yep, it's my birthday. The big 2-6. Odd how I didn't feel any different about my birthday this year, or the last, or the last. I think after you turn 21, they all blur together.

Birthday presents? Well, I got a new computer (a "slammin' setup" according to Jenn) and some money so far. I'm going out to eat with Jennifer and some friends, where Jenn says she has a few more gifts for me.

update: I had a pretty nice birthday. Thanks to everyone that was able to make it to the dinner party. AW won ropepull, that was pretty nice. It took 59min 55sec to win - but it's another win for the house. We went to Pietro's Italian cafe to have dinner. I got some Dale Jr. gag gifts ("yeah buddy!"), a Dave Matthews Band - Live at Central Park DVD , Google Hacks & The Zen of CSS Design books, some Tommy cologne (ha! get it? it's funny.) exchanged for Lacoste Essential cologne, my niece got me a foam growing turtle and a message bean (rock on), a portable USB hub and USB light & some clothes from Old Navy.