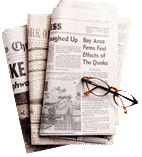 With my hometown about to get pwn3d by Hurricane Rita, I was just thinking yesterday that R is getting close to the end of the alphabet that is used by the National Hurricane Center to name hurricanes and tropical storms. Over at LiveScience there is an article about what happens when we run out of hurricane names for a given season.

From the article I learned that the letters Q, U, X, Y, and Z are not used for selecting names, with no explanation of why. It is interesting to note that the most active storm season to date has produced 21 storms, which is exactly how many names are selected for use in a given season - and we're getting close to the threshhold.

Meanwhile, some are trying to make the tie between an active storm season and the hot weather. Some aren't buying it. Just yesterday AW had a football game and I can't remember the last time I felt that hot - it may have also been the fact that almost our entire team was playing both offense and defense, but I digress. Is it global warming? El Niņo (which is spanish for 'the niņo')? Or something more sinister?

update: Storm names still left on the list: Stan, Tammy, Vince, & Wilma.