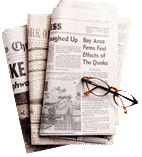 I just received my newest toy. I got a solar and dynamo powered radio that I bought online. It is the Kaito KA007. It receives AM/FM/TV/SW/VHF, which allows me to receive Air traffic, 2m FM ham radio, National Weather Service and general VHF usage traffic (wrecker, sheriff, highway patrol, etc). Here's a look at the back of the radio.

Right out of the box I gave it about 5 or 6 turns on the hand crank and was able to tune in local FM stations and an AM station while in the basement of the student center. KC9AIC and I then took it outside in the sun to check out the solar capabilities which is when I tested out the world band reception. I was able to hear World Harvest Radio loud and clear under solar power. However, I did notice a bit of drifting as I tuned in world band signals. I've also noticed very little selectivity in FM broadcast reception.

A few things I wish the radio had would be a digital display of the frequency, I wish the AC adapter was built-in so I wouldn't have to worry about keeping up another wall wart (although with solar capabilities, it's not that big of a deal), I also wish there was an external antenna input port for hooking in a better antenna. None of these are really vital, but they'd be nice. These features are found on newer models, but they don't offer wide VHF reception, only weather. So it's all a big tradeoff, which is why I opted for this model.