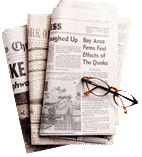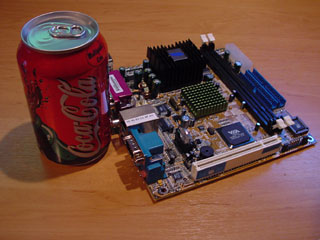 This is my newest toy. It arrived this afternoon. Its quite impressive. Very fast for what it is, and the silence is quite nifty.
Its a fully-functional motherboard made by VIA. It sports a heat-sink for the CPU and chipset (no "loud" fans needed!), on-board video, PC133 memory access, one PCI slot, onboard network and onboard sound - all in 6.75" x 6.75"!!!

So what am I going to do with it? When I go off to school in the next week or so, I want to take Neodux with me, but I don't want to hear it. Enter the solid state reincarnation of neodux! I'm going to use the EPIA P5000 motherboard, my IDE-to-Compact Flash adapter (to boot off a CF card instead of those loud hard drives) and run from 512Mb of PC133 (later 1Gb). So, no moving parts!

update : Talk about quiet! Its almost eerie to not hear this thing in action. I found an awesome distro called SmoothWall. I am completely blown away. It works right from the get-go, quite secure, installs from a 21Mb ISO on CD, and fits nicely onto my 256Mb CF with room left over. Best part is, its all configurable from a web-interface. Really an amazing distro. I can't believe there hasn't been more buzz around it.
for more info on other miniITX projects, visit mini-itx.com.