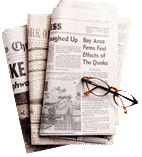 It's probably a bit too late to order one as a Christmas gift, but it's still a cool idea nonetheless. The website is OneShare.com and they sell single shares of a stock along with the certificate of ownership (something that you usually must pay extra for after you purchase the stock.)

Granted, you can't choose from just any stock (i.e. GOOG, AMD - which is a bargain right now), but there's a healthy selection of some of the more popular brand-names available. It's a neat idea, especially for someone that may be a big fan of a company. If I had thought of it sooner there are a couple of people I would have considering a certificate for.

It's a neat idea and thought I'd pass it along. If you know of any similar websites (preferably ones that are maybe more flexible in their stock offerings) please share.

update: Oh yeah, there's also GiveAShare.com which does have Google stock for sale, but it's rediculously priced.