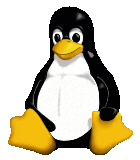 This has to be the hands-down easiest mod I've undertaken. I read last year about the OpenWRT team playing with linux on the Linksys WRT54G router. Cool, but not much use to me (especially since I had a wireless router at the time and didn't even need wireless!).

Well, as many of you know, last holiday season, Jennifer and I got a laptop. It has wireless built in, so, obviously the next step is to get a wireless router. I bought a cheap router from a goon on SA-Mart for next to nothing. (It had a few problems, so it didn't really do the job.)

After looking around at several stores for a good router, I finally found a pre-5.0 serial number WRT54G at Office Depot. They price matched WalMart, so I bought it and took it home. I downloaded the proper .bin image for the 4.0 model that I bought. I hooked up the router, connected the laptop, uploaded the new image and voila! OpenWRT was installed.

Package management is very straight forward and the system is layed out the same as any other linux system - so it was easy to get around.
So far, all I have installed is the WakeOnLAN, NTP client(which checks time at midnight) and I have MAC cloning setup on the WAN.