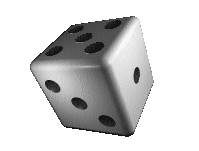 It's hard to categorize exactly what Phun is. A game? There's no rules really. You could argue that it's educational, but it's just so darn fun. It's alot like a 2D virual Lego set: stimulating free-form play.

Created by Emil Ernerfeldt for his Master's thesis, Phun is a physics engine with dynamic shapes that can be arranged, moved and associated however you wish. For more info, check out the Phun webpage.

Grendel sez: Here's my first creation. The chain was a doozy to get working right.