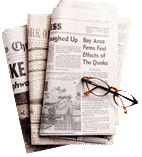 "Grendel, WTF? I told you about this months ago..."

Yeah, well, I didnt get around to trying it out until today. Usually, between classes I go to the computer labs to check email and websites. This morning while in the lab, I realized that Firefox was not installed. I didnt want to have to install it, since the systems get wiped clean every night or so. Then I remembered Portable Firefox, a version of the popular Firefox browser optimized for running from USB thumb drives. So, I reached in my backpack, pulled out my thumbdrive, put Firefox on it and it's great!

Portable Firefox is in no way crippled or lacking features - it even plays nice with all your favorite plugins!

So far I have Adblock, All-In-One Gestures, Tabbrowser Preferences and SuperDragAndGo - what plugins are your favorites?