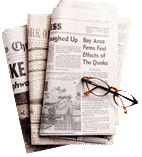 I just learned about Digg from Slashdot. It has a whole list of great links with a short description - a lots of 'em!

So, here I'll link you to the more promising finds: 'Black Friday' Ads for 2005, Best Buy computer hacks, howto for a Wifi biquad dish antenna, Running Apache, Perl/PHP, Mysql on Windows, Getting started with Ruby, 10 Best AJAX hacks, Build a radio, Telnet with your browser, Flash-based VNC, Learn PHP, History of GNU/Linux, What's SNOBOL?, and finally a Hack-a-Day like site: DIY Live.

Hope you find something interesting!