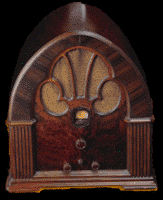 After almost a year of procrastination I got around to finishing a Rockmite 20 radio kit. The Rockmite is a single-frequency crystal-controlled ("rock-bound") low-power CW HF radio. Say that 10 times fast!

I bought the kit sometime last year and just never finished building it. I had all of the components soldered in, but I never mounted the board in any enclosure. W5USJ, Chuck, Don, K5DW, gave me a metal enclosure during a North East Texas QRP Club meeting. It wasn't until last Friday that did anything with it. I knew the Rockmite needed a home, and here was a nice case for it. I drilled some holes in the cabinet, more or less eyeballing it. They're not perfectly aligned, but pretty close. So now the little radio is mounted, all of the connectors are soldered in and the radio is functional.

It only puts out about ½W at 14.060MHz, on the 20m amateur radio band, but because I mostly operate during the afternoons, 20m is my favorite band for now. I may need to boost myself up to a "full gallon" QRP and get a 5W amplifier like the one Chuck designed, which I might get from QRPme.

Also on my "to do" list, is to add a PicoKeyer chip to the radio which greatly adds to the experience of using it.

update: I got the PicoKeyer chip installed this afternoon. I love the features it provides. The Memory Keyer is vital for QRP work and the hands-free "Tune" feature is great for field-portable antennas. Most of the other features I don't use, but I still think the chip should be incorporated into the original design.