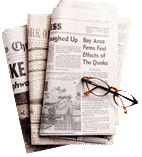 Many of you know the site Something Awful. It's just a site with random, funny crap on it. It's amazing how many people are in their Forums. I just signed up today for $9.95. It sounds like a lot just for some stupid forum membership. But, I assure you, it is $10 well-spent.
There is tons of hilarious stuff posted. Almost anything cool, funny or otherwise amusing, gets posted on Something Awful before most people have time to distribute the URLs.
Also included in this bargain buy is the free-stuff forum. Each thread has a new deal, which, after one free magazine subscription... pays for your entire life-long membership. Not to mention the other goodies available for members only.

So, if ya got $10 and want to be part of a friggin' huge online group... check out the Something Awful Forums.
My SA Goon name is GrendelT.