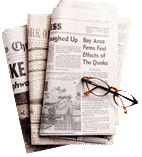 I was looking around on reddit one day and found a story about Stephon Marbury's line of shoes called Starbury. Basically, this line of shoes is targeted for low-income urban youth - they're all priced at $15 each.
He claims they're just as good as higher priced shoes (i.e. Jordans and the like), and there's some debate on the issue.

As you probably know, I'm no baller. I just wanted some cheap kicks and I thought a $15 shoe line was a great gimmick that I must support. I got some low top sneakers that really resemble some New Balance shoes. The best part was, while we were at a Steve & Barry's in Houston, they were having a clearance sale so my shoes were actually $9.

It also happened that Grimlen and Araolath were home the same weekend that I was, and got some shoes of their own. (Araolath got some gaudy baller shoes, grimlen got some sk8er shoes.)

Anywho, if you're in need of some decent, really cheap shoes, check out Starbury shoes.