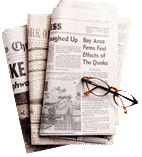 I just learned that PC Magazine will be going out of print this January. I understand why: nobody is really buying magazines much anymore. At least, nobody in the tech magazine market.

I got a free 2-year PC Magazine subscription off of a thread at SomethingAwful - or maybe I paid just a couple bucks for it. (It's good bathroom reading.) Before I got it in my mailbox, I would thumb through it occasionally while in line at the grocery store or pharmacy. I'm still guilty of this on other titles such as CPU, Maximum PC and others. I know this kind of behavior is what kills off magazines, but I can't see shelling out $5 every month for every magazine worth reading.

Sadly, another of my favorite magazines is going out of print too. World Radio magazine, a ham radio publication, was bought up by CQ Magazine. CQ will cease print production of World Radio and they claim that it will live on in an online publication. Judging by their eye-bleed websites, I can't see that lasting long at all.

PC Magazine claims they'll continue an online presence and perhaps that will bumble along for a while, but unless they can survive on online advertising alone, they're doomed. Online paid content doesn't have much of a market or future.