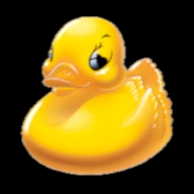 Just got my new KVM Switch in; it was $20 from NewEgg.com. Nothing spectacular about it, it's your standard 2-port KVM switch. It's only $20 because it's TRENDnet, kinda cheap, and quite ugly. But it's okay, i have it kinda hidden. I have it hooked between my WinXP machine and my Linux box, then stuffed down behind my filing cabinet. The model I got supports hot-key switching, so I don't have to look at it, or hit a button on it. To switch it, I hit Scroll-Lock twice then UP or DOWN and the switch goes to the next channel.

Right after I hooked up the KVM, I installed Slackware 9.1 at the persuation of Skaven. He swore up and down that the 9.1 default install of XFree86/Gnome looks amazing. After installing it for myself, He's right! I had to get him to lend a hand getting my resolution up to 1280x1024, but after that, it looks great. It runs very smooth, I'm quite impressed. I'm about to install OpenOffice on it.

Download your favorite distro from LinuxISO.org.