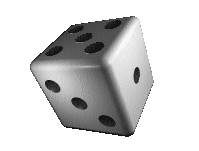 I've been playing Team Fortress 2 alot. It's a great game. I enjoy playing just about every class on the game. I play Engineer most of the time, although at times I've been known to completely devour the opposing team as a Sniper.

As I was playing earlier I realized that most Engineers place their teleports near the upstairs spawn point in the 2Fort map (I play 2Fort almost exclusively). It really drives me crazy when I get in some teleporter and it takes me to my teams flag room and not to the enemy base (where all good teleports should go). I decided I needed to make it easier on my teammates to know where my teleport takes them, so I made a spraypaint.

I just made it in MS-Paint, set the canvas to the right dimensions, downloaded the TeamFortress2 Font Pack and voila! I has-got custom spraypaint. So here it is, my simple teleporter label.

Grendel sez: I also enjoy these treats. The Sentry Gun decoy (red, blue) and the crouching sniper decoy (red, blue).