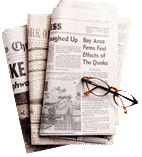 I've seen this spring up on several different internet sites like Digg and Reddit. They've been listed and shouted down by droves of discontents, they're the "Big Ten", the "Media Mafia", the 10 leading news outlets that control 95% of "big media". You're familiar with most of them, I'm sure. They control the vast majority of print media, movie, music and television. You know, "the media".

This list got me thinking. Ten isn't all that bad of a number of competitors in a US marketplace. I can't list 10 leading PC manufacturers, 10 leading US auto manufacturers, 10 US telecom companies or even 10 leading gunmakers. Ten's not that bad of a number.

Sure there should be more diversity in the drive-by journalism outlets, but what about all of the other markets in the US. Why isn't anyone speaking out against the few companies that control the vast majority of the secret recipes behind the junk food we shovel into our faces. Why aren't the few main telecom companies controlling long distance and the internet at fault? Are just 10 really all that bad - how many competitors should there be?