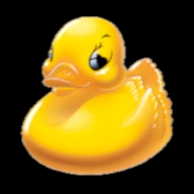 Yay, the oldest (and personally most used) part of neodux finally got an overhaul. That's right, the links page. I have it set to my browser's start page, because I can visit all of my favorite sites in one stop. (Add to the fact I can open them all easily with the wave of a mouse thanks to Mouse Gestures...)

"Okay, I don't see anything different..."
Great, I was hoping you'd say that. I didn't want to change it much, because I've come to love its simplicity. What has changed is that it is now dynamic. See, for years, any time I wanted to add/edit a link on the links page, I had to manually go and find the link, edit the HTML, make sure I didn't break the table, save and refresh. (It was a chore.)

Now, the page reads links.txt which is a simple text file formatted so the script can read the file and understand what is a category name and what is a link title and url. Now, whenever I want to add/edit a link, I just have to find/replace the line in the text file and the links page will do the rest. Phew!

Grendel sez: Report any problems, plz. Or, if I should add a link, put it in the comments below.