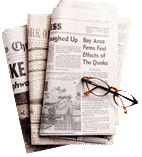 While playing Battlefield 1942 with the guys, we always use some form of voice chat. We started off with the one that started it all, Roger Wilco. Since it was bought up my GameSpy, it's gone to crap. There's almost no development going on with it, and it's become stagnant. The sound quality is 'good enough', but poor when compared to others.
Next, Havoc had us try out Sidewinder GameVoice a product from Microsoft. Like RW (RogerWilco), it's free. The sound quality of it is much better than RW, but the only problem was that, being a MS product, there is only a Windows server for it. Most other voice chat servers run on Linux, BSD, as well as Windows. So we left it running on Havoc's box (when it was up).
Over Christmas break, my older brother told me about a program that his Dark Age of Camelot guild uses called Ventrilo. He said they use it because it is small, like RW, but has great sound-quality like SW. And it will run on Linux. So I gave it a shot, and it is quite impressive. The sound quality is superb and it uses very little memory compared to the others.

What about TeamSpeak? TeamSpeak sux. I've tried several of their servers but it always either won't start or just crashes out. So I ditched it long ago. Besides, I had heard that SW sounded better, and Ventrilo sounds even better than that. So why bother...

So check out Ventrilo next time you want to use voice-chat. It's free and easy to setup. The server name is neodux.com and cheese.neodux.com.