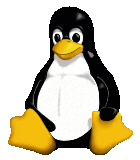 Well, after almost a year of putting off, I finally installed linux on my ZipIt Z2. Jennifer's brother-in-law gave it to me last year right before Christmas. He received one free as part of a promotion and handed it off to me to tinker with. The big problem for me was finding a miniSD card. microSD cards can be found alot more easily (and cheaper) than the miniSD. I was able to snag a miniSD from some retailer on pricewatch. (i know, remember that place?!)

So my 2Gb miniSD finally came in the other day and I'm all set. Lo and behold HunterDavis posted a new tutorial using a Windows machine. I figured I'd give his tutorial a try and found the whole process to be fairly straight foreward. Hats off to HunterDavis and others that paved the way for this.

After following Hunters tutorial to the tee, I was ready to connect to my network, I followed dhenke's tutorial to get a feel for the small keyboard's "hidden" keystrokes (and to dust off and refresh my wpa_supplicant config skills).

I hope to get a NES emulator running on this, that's been my end goal all along and I doubt I do anything more than that with this. But seriously, Tecmo Super Bowl or Legend of Zelda in my pocket/backpack?! Yes, please.