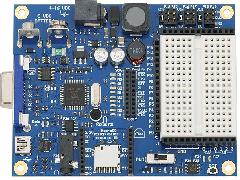 I recently picked up a Propeller Board of Education from my recent trip to Parallax, Inc to teach the Teachers' Institute for the ARRL. The Propeller is Parallax's latest microcontroller platform that offers far more than the old beloved BASIC Stamp could. Digging back through my old posts, I found my initial review of the Parllax BASIC Stamp from 2006. (Little did I know that about 5 years later I'd begin teaching classes on the Stamp, visit Parallax HQ, and befriend the author of the "What's a Microcontroller" book (among other titles).)

The Propeller is a programmable multicore microcontroller that can be programmed in Assembly, Spin (an Object-Based programming language that I'm still learning), or, most recently, Standard C. The multicore design lends itself well for many, many projects, chief among them is robotics. Now your creations can take in and process loads more data at once. And with robotics, the more sensory input your bot has, the better equipped it will be to handle various tasks.

I just recently began to fully grasp the power of the little Propeller chip. Once the relative simplicity of utilizing the 8 cores available (known as "cogs"), the possibilities begin to multiply and compound one atop the other. My initial reluctance to the Propeller was the Spin language. The operators seem a bit foreign compared to the C-style languages I've been comfortable with for so long. The various code sections also seemed confusing initially. After reading through the tutorials posted on the learn.parallax.com website, I was up and running in a relatively short amount of time. I also took advantage of the Propeller Manual (pdf) and Programming the Propeller with Spin (pdf). While both offer great starting points, be sure to reference the learn.parallax.com site first - the Programming the Propeller text has its weaknesses.

Continue reading...