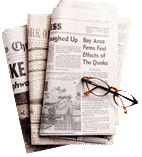 This is something I thought today during a meeting...

I recently learned we have had several students not report *all* institutions they've attended before. (Ex: One student "forgot" to mention they had taken courses with Univ of Phoenix for ~70hrs and stopped attending. Univ of Phoenix is holding that student's transcript until they settle up on their bill. [Transcripts are the one thing a school can hold over a student for failure to pay.] It came to light when the student's Financial Aid was processing...)
School's usually require this because prior scholastic work is taken into consideration when placing the student in courses, academic standing, etc. and ensures a students will make good on their financial obligations - like a gentlemen's agreement among institutions. I asked in our Registrar's office what happens if a student doesn't divulge all schools they've attended, "What's the worst that could happen to them?" "It could get them suspended from our school." In the grand scheme of things, so what? They could move down the road to another school and take classes there. It would be a huge headache for the student, but a driven and motivated student could navigate the system and get their degree one way or another from some institution. (especially from certain schools that are willing to do anything to get money and could care less about the other schools down the road...)

So. What's the big deal? The trouble is Financial Aid fraud.
Unscrupulous individuals will solicit the school for financial aid, scholarships, grants, etc. in hopes the grants and loan money comes to them directly and/or any overage in scholarship/grant money gets sent to them directly, all the while never intending to *actually* take classes. Before any financial aid is disbursed, the student will usually sign a short-term loan with the school to cover the courses in the meantime.

Continue reading...