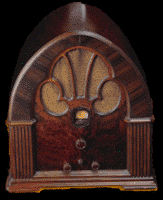 Most people are aware that every day weather satellites pass overhead to get a glimpse of the nation's weather patterns. Many people, especially those outside the ham radio community, are unaware that the signals these NOAA weather satellites transmit are readily accessible with a minimum amount of equipment. These satellites use a technology known as APT, or Automatic Picture Transmission. NOAA-19 is perhaps the easiest APT satellite to receive because it provides the best, strongest signal for visual satellite imagery. Because of this, we'll focus on NOAA-19 for this post.

Hardware
All you really need to receive the satellite's signal is a radio receiver like an old police scanner (found at thrift stores) or a simple 2m ham radio handitalkie (like the Baofeng UV5R). An external antenna is usually better, but not a requirement for casual reception of the image. Other than the radio, the only other pieces are a computer with sound input and an audio cable (to get the audio out from the radio to the input on the computer).
If you would like to get the best images possible from every pass of the satellite, use an outdoor antenna connected to your radio. Discone antennas for scanners work well, as will any 2m amateur radio antenna. These antennas do suffer from "fades" where the gain of the antenna is weakest. To minimize these anomalies, eggbeater antennas or the very common quadrifilar helical antenna are used by serious hobbyists and weather professionals.

Software
Once you have the required hardware, download the free WxToImg software which is available for Windows, Mac and Linux. There are other features and enhancements to the software if you upgrade, but it's still not a requirement.
Once the program installs, the first time you start the program you will be prompted to enter your Latitude and Longitude.

Continue reading...